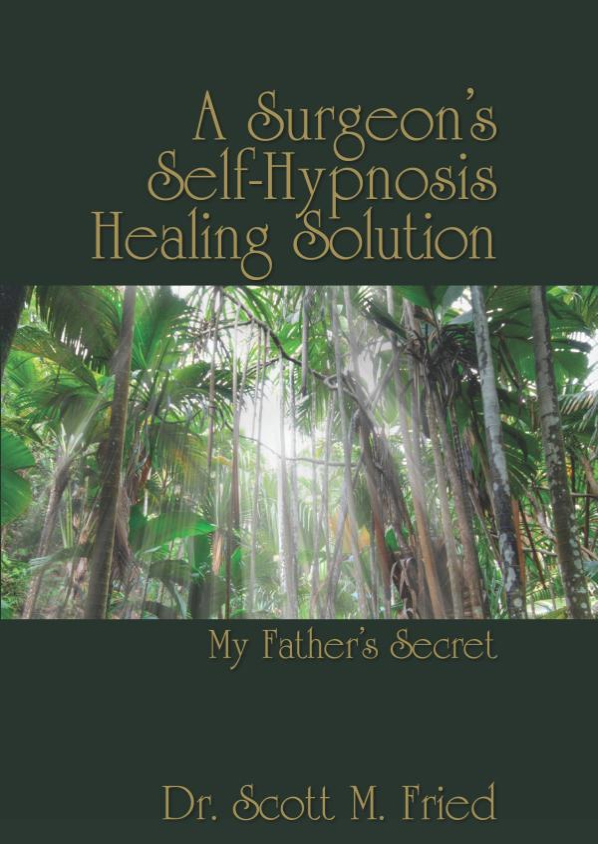 A Surgeon's Self- Hypnosis Healing Solution: My Father's Secret
Dr. Scott Fried teaches us that healing is not what we have been led to believe and that each of us has the same capacity to heal. Dr Fried's father had 5 heart attacks and unsuccessful heart bypass surgery by age 52. The medical community said he should be dead. Instead, he lived a full life, using the secret revealed in these pages, brought back from deep in the jungles of Burma, half a century ago.
A Surgeon's Self-Hypnosis Healing Solution helps you to heal neck, back and nerve pain without surgery -treat high blood pressure, cholesterol and arthritis -achieve control and happiness in your life -use less or no medication – and avoid surgery.
Dr. Fried, an orthopedic surgeon, discovered early in his career that people often do not get better with surgery, and when they do have surgery they are woefully unprepared for the experience. So, he began teaching his patients how to heal themselves. This is the power of self-hypnosis, the central focus of this extraordinary book.
Please fill out the form below to access your free audio download with Dr. Fried for A Surgeon's Self-Hypnosis Healing Solution – My Father's Secret. The book's ISBN number can be found in the front on the copyright page. A link to the mp3 audio download will be emailed to you once you submit the form. All you need to do then is download it to your itunes, and you are ready to listen.

If you prefer to have a CD of this audio, it is available for purchase. Simply click the "Add to Cart" button below:


Through his decades of practice as a board certified orthopedic surgeon helping thousands of patients, Dr. Fried has developed a "surgery as a last resort" approach to treating neck, arm and hand injuries.
He is a fellowship trained hand surgeon and upper extremity surgeon, as well as a specialist in treating nerve pain. He believes in teaching patients to heal using nutrition, exercise, standard and alternative therapies, splints and medical devices, lifestyle modifications, and relaxation techniques such as meditation and self-hypnosis